CranioSacral Therapie und Osteopathie
CranioSacral Therapy and Osteopathy are manual treatment methods, that affect the whole body and support the self-healing powers that you already possess.
A treatment lasts about an hour, you won´t need to take off your clothes.
These therapies are suitable no matter your lifestyle or age: My patients consist of babies, just a couple of days old, as well as elders.
Not a disease nor a symptom is treated, rather the human being in the entirety of body, mind and soul. Concluding, almost all ailments can be treated using these methods. Therefore, the following list only includes symptoms I already had great success treating.
tinnitus, chronic sinusitis, vertigo
orthodontic problems, such as teeth grinding
headaches and migraines
whiplash, fall and compression trauma
pain in the neck, back and pelvic
complaints after any surgeries
chronic gastritis, irritable bowel syndrome, ulcerative colitis
stress-related complaints, burn-out syndrome, sleep problems and exhaustion
desire for children, complaints during pregnancy or after childbirth
babies with sleep disorders, who cry a lot or show aymmetries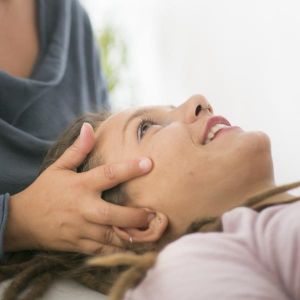 CranioSacral Therapy and Osteopathy are manual methods working with minimal pressure, which translates to a very deep effect.
The main focus of CranioSacral Therapy is the connective tissue (fascial system) and the musculoskeletal system of the body - specifically the dura, that surrounds the brain and spinal cord. Therefore the function of the nervous system, the endocrine system and the immune system can be influenced positivly.
Visceral Osteopathy is focusing on the mobility and blood circulation of the internal organs which improves the function of the treated organs.
The goal is to restore balance within the patient and therefore strengthening the life force.